Vicki at 2 Bags Full is hosting a
Grow Your Blog Party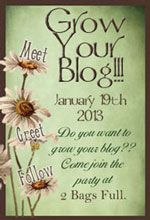 You will want to participate in this big event, either to Grow YOUR Blog or to visit some really special ones!
Click on this link
Grow Your Blog!
to be taken to Vicki's website.
On January 19th, 2013
you will find a huge list of blogs to visit.
Lots of giveaways too!
See ya there!
Love, Linda